Press about us
Nyakas Chardonnay Barrique — The best Chardonnay of the World
From the collected works «About Chardonnay»

On the summer degustation «The best Chardonnay» were presented almost all wine-making countries of the world. Overwhelming majority of wine samples were from France and Chile. As a result a lot of Chardonnay were recognized by sommelier as «interesting, original, smooth, many-sided a.s.o.», however the final was reached only by quarter of the participants — France, Argentina, Chile, Hungary, the USA and Spain. Numerical superiority was on the side of the New World.

Eventually New World countries took only third places and received bronze. But the main surprise of the degustation became the victory of the sample from Western Europe, which, so to say, "shot" and left behind the rest wines.

The best Chardonnay of the world 2008 was recognized our wine Nyakas Chardonnay Selection barrique 2005. Experts regarded it as very flàvoured, many-sided, interesting and contentedly complex in perception.


RESULTS OF THE CHARDONNAY DEGUSTATION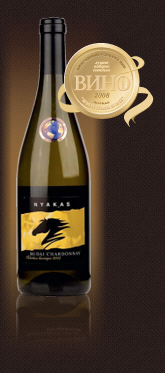 The best


Nyakas Chardonnay Selection barrique 2005, Hungary

Gold

Sieur d'Arques Autan Toques et Clochers Limoux AOC 2002, France

Silver

Robert Mondavi Private Selection Chardonnay 2005, the USA

Bronze

Norton Barrel Select Chardonnay 2006, Argentina

Bronze

Nina la Rosa La Capitana Chardonnay 2006, Chile

Bronze

Hardy's Chardonnay 2007, Argentina

Marks of approval

Castillo di Molina Chardonnay 2006, Chile

Rene Barbier Chardonnay 2002, Spain

Ventisquero Queulat Chardonnay Gran Reserva 2006, Chile

Trapiche Broquel Chardonnay 2006, Argentina

Louis Jadot Chardonnay Bourgogne AOC 2005, France

Santa Rita Medalla Real Chardonnay 2005, Chile
June 25, 2008